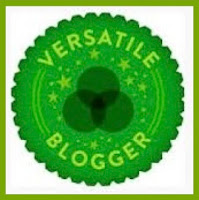 Who'd a thunk? I started this blog just a couple months ago and have been posting much more sporadically than I'd planned. I'm still working out kinks in schedules and all that. (I promise I'll become regular one day — I'm even taking fiber.) And lo! someone was kind enough to plop an award on me.
Thank you Lynne Favreau! Check out her blog at: http://www.lynnefavreau.com/.
This award comes with rules, though and here they are:
The Rules for the Versatile Blogger
1) Thank the blogger who nominated you and include a link to their site.
2) Add the Versatile Blogger Award picture to your blog post.
3) Nominate 6 (or more) fellow bloggers that you've recently discovered or follow regularly and include a link to their site.
4) Let them know you have nominated them
5) Share 7 random facts about you
So, numbers 1 and 2 are done. Here's number 3. please stop by and check them out:
Florence:http://foisinthecity.com/
Melanie Surani: http://melaniesurani.blogspot.com/
Lisa & Lisa:http://thelisas.wordpress.com/
Linda:http://layinda.wordpress.com/
Belle: http://belleofthecarnival.com/about/
Izzie: http://izziedarling.com
And now, 7 random facts about me.
1. I really do love bacon, peanut butter and vodka as much as I claim to.
2. I think dogs are smarter than cats.
3. I'm a closet Martha Stewart with an addiction to my glue gun.
4. I painted my kitchen chili pepper red because I think all houses should have at least one red room.
5. I am working on 3 non-fiction how-to types of books (about entertaining and celebrating special occasions — and yes, bacon, peanut butter, vodka and glue guns are in all three of them). I plan to self-publish those by May 1.
6. I am finishing up a humorous mystery I hope to traditionally publish at some point in my life but will probably end up self-publishing.
7. I've been with my husband over 20 years and I still really like him.