My sister-in-law and I had both been haunted by the concept of pumpkin-flavored vodka. We kept seeing it on the liquor store shelves over the past month or so and were both equally intrigued and nauseated. We're huge fans of pumpkin. And we love our vodka. But there was something about the  idea of pumpkin-flavored vodka that didn't sit right with us. It seemed more of a Halloween trick than a treat to us.
And we were right.
She succumbed, bought a bottle and began experimenting. Nothing she did could make it taste like anything other than old-fashioned cough syrup.
I was sorely disappointed to hear about it. I wanted so badly for it to taste good. I thought it would be the perfect fall drink this year. But, never one to be discouraged from finding a new beverage, I plugged on and continued my search.
I'm happy to report that I stumbled across a Pumpkin Pie Liqueur made by Fulton's Harvest. It's delicious by itself, but it can be made a little better by pouring it over chocolate ice cubes. If you don't have any of those on hand — and you don't live next to the Wonka family where chocolate pours from the kitchen tap — here's a recipe for you:
Chocolate Ice Cubes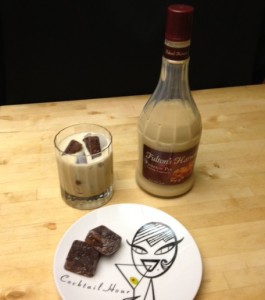 1 c. whole milk
1/4 c. water
1 Tbs unsweetened cocoa powder
1 tsp sugar
3/4 c. semisweet chocolate chips
Whisk together the milk, water, cocoa powder and sugar in a sauce pan over medium heat and bring to a simmer.  Once the sugar dissolves and there are no lumps, remove from the heat and stir in the chocolate chips. When they melt, let the mixture cool for a few minute and then pour into an ice cube tray and freeze.
I don't have ice cube trays, so I used one of those silicon baking pans that make individual brownies as in the picture below.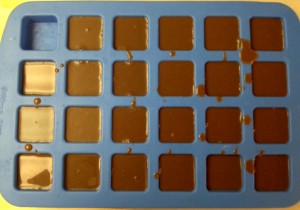 Another yummy fall idea came from a good friend of mine. She lives in northern Jersey where as of the writing of this post, they still are still without electricity thanks to Hurricane Sandy. Her neighbors invited her over to warm up with a cocktail of their own concoction: equal parts caramel vodka and apple juice. My friend said it tastes like candied caramel apples. Could you get more autumn than that?
I can't drink the caramel-vodka-apple-juice beverage because I'm allergic to apples, but I find the idea of caramel vodka to be quite appealing. I'd never heard of such an animal.
Perhaps I'm just out of the loop, though, because apparently several people have heard of it. There are a number of brands on the store shelves. One in particular is Gecko and they have a recipe for a Creme Caramel drink that is good enough to enjoy not only in the fall but all winter and maybe into early spring. Do check out their site for more recipes, and here is the one they have for Gecko Creme Caramel.
1 part Gecko™ Caramel Vodka
Baileys Irish Cream
Iced Shot Espresso
Enjoy!