As I mention on my landing page, my fiction works are all about characters learning to celebrate life.
Currently the focus is on comedic fiction — mystery, suspense, novels, short stories, chicklit or henlit (depending on how you define yourself). Hopefully there's something for everyone.
Here's a little about what's "out there" right now, and if you'd like an excerpt of REVENGE CAFE, and other book, you can check out a wonderful site called: Book Samples.
Show Up Dead: A Sweet Mystery from the City of Brotherly Love
The audio version of this book is narrated by the fabulous and funny Jamie Soltis!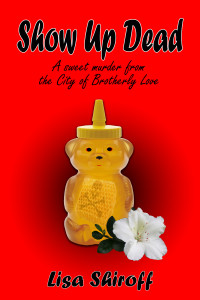 When people call her a control freak, Peri Milano takes it as a compliment. As the preferred go-to assistant to Philadelphia's rich and almost famous, having everything under control is part of her job description.
With the organizational skills of a data processing program, the discretion of the CIA, and the creativity of an Ikea research and design engineer, Peri fulfills whatever whim her customers fancy and finds methods for their madness.
So when she finds the dead body of one of her clients and lands smack in the middle of a murder investigation, Peri thinks she can handle it. Never has she received a request she couldn't complete nor a problem she couldn't solve.
But when, shortly after the murder, another client receives a blackmail letter, her son's type-1 diabetes nearly kills him, and her mother ends up in jail (again), Peri begins to have doubts. She worries whether anything is truly ever controllable. And she can't help but wonder just who will be the next to Show Up Dead.
Revenge Cafe': a mystery in the Caribbean.
What was supposed to happen:  Mandy would land in the Virgin Islands, head to the Revenge Café on St. Thomas, and start living her dream life. She'd begin a new career sharing ownership of the restaurant with her best friend, Chance. She'd break her addiction to therapy cold turkey. And she'd let the slow, laid-back pace of island life fix whatever was broken within her.
What actually happened: apparently the Revenge Café is the it place for people dying, let alone dining. While she's dealing with a murder on the premises, Mandy learns Chance had been dabbling in a variety of activities that may or may not have been legal, and that may or may not have set her up to be the next victim.
With people from her past refusing to stay there, a ghost in the dining room messing up closing time, and a too sexy police detective vying for her attention, Mandy wants only to bury her head in the sand, or at least drown it in a bottle of rum. But as the list of suspects grows to include an old boyfriend and former members of the VIPD, she realizes her own inner demons can destroy her faster than any living, breathing person. It is only after she gets the courage to face them head on that she finds the real murderers and learns they were the least likely of suspects.
An Original Story (a Breen family short story). Rumor has it the Breen family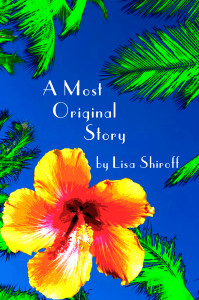 can trace their ancestry to the eighteenth century, back to the audacious and beautiful, red-headed pirate Anne Bonny. Whether or not it's true, no one knows. Though all agree her DNA would explain some of the more eccentric traits commonly shared by Bob's relatives. Various members of the Breen family will be prominently featured in upcoming novels (Mandy Breen can be found in the Revenge Cafe). And here's a little story serving as an introduction to Bob and his (future) wife, Gigi.
Hitting the Sauce, (the first in the Dining with Lucy McCool series).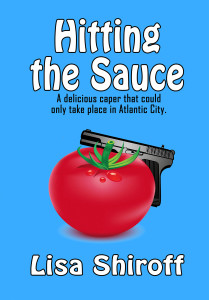 Currently available at Amazon, Barnes and Noble, iBook, Kobo, and Sony eReader, the book features Atlantic City social worker Lucy Womzak. Lucy is someone who has always been able to find the good in people, to make the best out of bad situations and to cook her way out of stress.
So when Les, her husband, leaves her for a slightly younger (but much skinnier) woman, she's sure she has the skill set to handle it and re-create a happy home for her and her sixteen-year-old twins. After all, she can still make a decent meatloaf.
But positive thinking and a degree in therapy can only go so far. When she discovers Les had led a secret life as a mafia-wannabe that may have now put her in danger, she realizes could use a little help, especially since her secret tomato sauce is at risk, too.
Lucy reaches out to her good friend, Nico. Together they try to broker a deal with a black market tomato farmer and hunt down a necklace stolen from a sentimental mobster. Nico is more than willing to help. In fact he's more than willing to be more than a friend.
Nico's funny. Nico's sexy. Nico can appreciate a good linguine and clam sauce. Never before had she such a delicious opportunity. But will she survive long enough to do more than just taste it?
What You Tell Yourself (The first Angie, Front and Center story) and What Others Tell You (The second Angie, Front and Center story) are short stories spun off of Hitting the Sauce. They feature Lucy's sister, Angie, as she makes her way in the world.