I'm not sure if many people are still sticking to their diet resolutions, but if you are  (congratulations!) and the diet of choice is one where you either had to give up wheat or all carbs, you might have discovered that you're pretty much ignoring the appetizer portion of the menu at your favorite restaurant. Aside from antipasto, when it comes to finger foods, there's not much to choose from.
It seems everything is fried, battered, or some form or another of bread. However, not all hope is lost. Here's a great and easy way to do some yummy stuffed tomatoes at home that will cover both the gluten-free and Atkins bases. And if you just want something delicious to have for a little snack, they also fit the bill because these babies are great. (Of course, they are, there's bacon in them!)
Ingredients:
Cherry Tomatoes — about 2 dozen
1/3 cup parmesan cheese
1/2 cup mayonaisse
1 package bacon, fried and chopped
1/4 cup chopped scallions
The last time I made these, the cherry tomatoes looked pretty tiny — too tiny to mess with so I chose to use Compari tomatoes. They worked fine. But I only had enough "stuffing" to make a total of 10 tomatoes. The photo below shows the size of Compari tomatoes: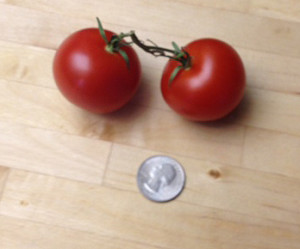 Clean the tomatoes then cut their tops off, scrape the seeds out from the inside and let them drain open-side-down on a paper towel for an hour or so.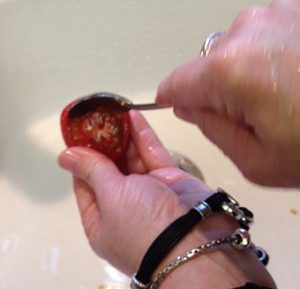 Mix the rest of the ingredients and fill the tomatoes.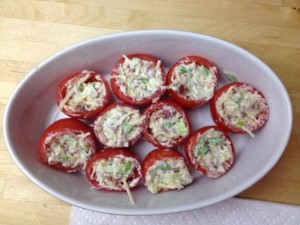 And that's it. You're done. Simple, right? And delicious.