What do you get when you cross a comfort food like chicken pot pie with a heart shape? The perfect Valentine's Day meal. OK, to be honest, I didn't come up with the idea for Valentine's Day. I made these for my daughter because she loves chicken pot pie and I thought she'd get a kick out of them being in the shape of a heart. And she did.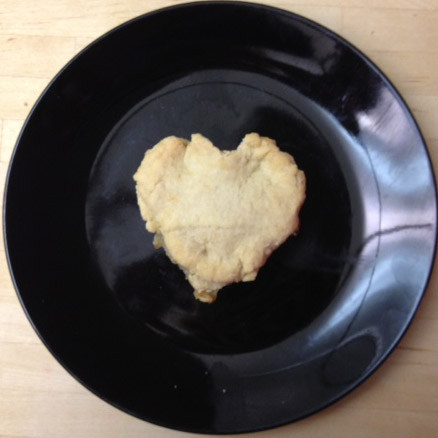 I used a silicon heart mold made by Wilton. It's very flexible, so after the pies are done and cool, you can easily pop them out without damaging the shape.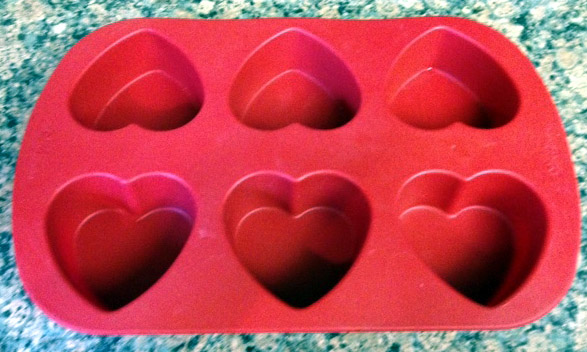 This recipe makes more than enough filling for 6 individual pot pies. You can freeze the leftovers and use them at a later date. In lieu of using the heart mold, you can use large ramekens or other oven-proof bowls. These can also be made ahead and kept frozen until you're ready to eat them.
Ingredients:
2 cups cooked chicken, chopped (I baked 2 chickens earlier in the week and used leftovers)
2 ½ cups chicken stock
2 tsp chicken bouillon
6 Tbs butter
1 cup red onion, chopped
6 tsp all-purpose flour
1 cup diced carrots
1 cup peas (frozen works best)
¼ cup milk or heavy cream
Salt and pepper
1 package frozen pearl onions (if I find it in the freezer section of my market, I'll use Bird's Eye Pearl Onions in a Real Cream Sauce and omit the milk in this recipe)
1 egg beaten with 1 Tbs water (to make an egg wash)
Pie dough (refrigerated or homemade)
Directions:
Preheat oven to 375 F.
In a small sauce pan, bring the stock to a boil and mix in the bouillion. Reduce the heat, keeping it just below simmer.
In larger pot, melt the butter and sauté the onions over medium-low heat until the onions are translucent. Drop the heat down to low.
Add the flour and stir non-stop for a couple of minutes – until you have a very thick, almost pasty but smooth liquid.
Pour in the broth/bouillion mixture and stir another minute until you have a think sauce. Add in the salt and pepper – I use about 2 tsp salt because I use unsalted broth. Adjust for your liking.
Add the remaining ingredients (except the dough) and mix well.
Cut circles of rolled dough that are about 3 inches larger than your hearts. Place one piece in each heart, pressing it gently to fill out the heart shape.  If you do happen to tear the dough, use a little egg wash to help you "glue" it back together.
Place about a half cup of the filling in each heart.
Brush the egg wash on the excess dough sticking out of the heart molds and place another small piece of dough on top of them. Pinch the pieces together. If you're real talented, you can do that twisty thing for pretty pie edges.
Place the mold on the center rack of your oven. I put it on a holed pizza pan to make it easier to pick up. Then place a cake pan or something else on the rack below the heart mold in case one of your seams pops open and you leak (that way you won't have to clean your oven later).
Back for 30 – 45 minutes or until your dough is golden brown.