So yesterday, Phill the groundhog saw his shadow, which means we're to get 6 more weeks of winter.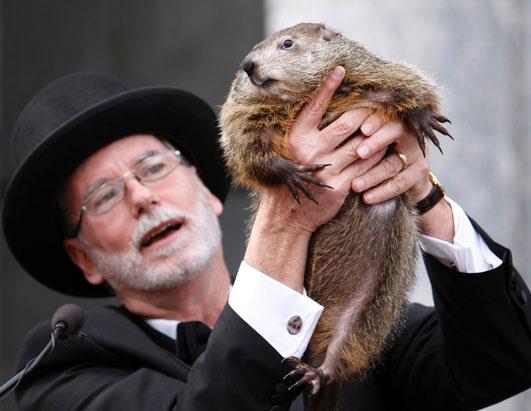 The funny thing (to me) was when the weather person mentioned it on TV yesterday morning, she was quick to point out that Phil is only accurate about 39% of the time. I found it funny, for two reasons. 1: a rodent without a satellite does a better job than she typically does when it comes to predicting the weather. 2: Ground Hog day marks the mid-point between winter and spring, so according to the calendar, we really do have 6 more weeks of winter.
Regardless, do we really need a ground hog to tell us it's still cold, damp and gray outside? I don't think so. What we need is something to warm and lighten us up inside. So why not some mulled wine? It's perfect for this time of year.
And I'm not alone in thinking that. David Dickson over at the Wine Time newsletter must have been picking up the same vibe I am, because he wrote about it in this month's newsletter. You can find a recipe for his version here.
Mulled wine is simple to make. Basically all it is is wine warmed up with another liquid and a little spice. I'm pretty sure there aren't even any rules. How simple can it get?
Here's a recipe from Food Network:
4 cups apple cider
1 bottle red wine
1/4 c honey
2 cinammon sticks
1 orange, zested & juiced.
4 whole cloves
3 star anise
4 oranges pealed for garnish
Mix all but the last 4 oranges in a sauce pan. Bring to a boil, reduce heat and simmer for 10 minutes. Pour into mugs, garnish with a couple of orange peals.
(Picture from Food Network)
I don't like the idea of boiling wine. I don't know why. It just seems sacrilegious to me for some reason, though I'm sure the above recipe tastes good. I love and respect the folks over at Food network.
But, if you feel the same way, here's one from About.com that treats wine a bit more gently. I think I shall attempt to this one soon:
One bottle (750 mL) of red wine (suggestions: Cabernet Sauvignon, Zinfandel, Merlot)
One peeled and sliced orange (keep peel to add zest to taste into cooking pot)
1/4 cup of brandy
8-10 cloves
1/3 cup honey or sugar*
3 cinnamon sticks
1 tsp fresh or 2 tsp ground ginger (allspice can be substituted)
Combine all ingredients in either a large pot or a slow cooker. Gently warm the ingredients on low to medium heat for 20-25 minutes. Stir occasionally to make sure that the honey or sugar has completely dissolved. When the wine is steaming and the ingredients have been well blended it is ready to serve. Ladle the mulled wine into mugs (leave seasonings behind) and enjoy! * The 1/3 cup of honey or sugar does make a sweeter-styled mulled wine, feel free to cut honey/sugar down to taste.
As promised — easy! Right?
Cheers.