For such a short month, February gives us quite a few reasons to celebrate: ground hogs, love and U.S. presidents for starters. But did you know that February is also the ideal time to celebrate America's most-loved tequila drink? That's right. National Margarita Day happens on February 22.
I think it's just one more slice of proof in the pie that says we are, indeed, the greatest nation on the planet. Who else has set aside a day to celebrate that bright green concoction that helps us, as Jimmy Buffett says, to hang on?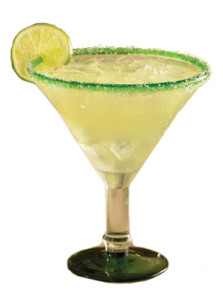 I'm a purist and love a margarita the way they were originally intended to be drunk:
50% Tequila
30% Triple sec (e.g., Cointreau)
20% Lime juice, fresh lime juice that is
Rub the rim of your glass with a chunk of lime and dip it in salt. In a shaker full of ice, combine the liquids and shake well. Pour into the salted glass and drink. What could be simpler?
If you're not a big lime lover, you can add just about any flavor of fruit juice that you want to balance out the tartness. You just gotta remember to stick a lime wedge on the rim of the glass, otherwise no one will believe you are drinking a margarita.
We are fortunate that this year National Margarita Day is on a Saturday when we have nothing else to celebrate. I think it's technically Washington's birthday, so if you needed more to motivation to buy that bottle of Patron, there it is.
Enjoy!
Cheers.