One of the toughest things for a mom to accomplish sometimes is one of the most basic and elemental ones:  cooking dinner. A real dinner, not something that comes in a container with directions listed in tiny print on the back or something that you can microwave.
Wouldn't it be great if we had a few recipes on hand that weren't really recipes at all but foolproof and easy ways to make something decent to eat? Such things really do exist, you know. And I happen to have one for the Easiest and Best Baked Chicken Ever.
Not only is this easy, but if you load up on chicken when you're at the market, you can make a couple meals worth at one time and use the leftovers later in the week.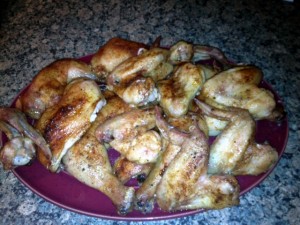 Ingredients:
Chicken – any and all parts; whole or cut up, with skin or without, bone-in or boneless. Whatever kind of chicken you happen to have on hand in the meat drawer right now will do.
Butter – as much as you want, or as little.
Salt, pepper, garlic powder and paprika (the garlic and paprika aren't essential, but they do go a long way toward making the chicken delicious; you can use whatever herbs or spices you like).
Preheat your oven to 375F.
Melt the butter in the microwave.
Either spray a baking pan with non-stick spray or, better yet, cover the whole damn thing with foil to make cleanup a non-effort.
Place your chicken on the baking pan.  Using a basting brush — or a spoon if you don't have one — brush the butter over the chicken.
Sprinkle on the salt, pepper, garlic and paprika. The paprika will look a little clumpy, but that's OK.  It will spread out over the chicken as it cooks.
Place the loaded pan in the oven and bake for 20 minutes per pound of chicken. To be safe, you can check for doneness: white meat should be 170F and dark meat should be 180F.
And that's it. Couldn't be easier, could it? And you can get a whole lot done in the meantime — like run to Office Depot because your son just told you he needs another composition book and must have it by tomorrow.
Also, if you bake a bunch at once, you can use the left overs in a myriad of ways:
You can scrape the meat off of bones, chop it up and serve it wrapped in a tortilla with a little onion, tomato and ranch dressing.
You can also stir the meat into macaroni-and-cheese or another pasta with sauce.
And you can chop it up fine (or put it into a food processor),  mix it with a little mayo, chopped onion and celery and make a sandwich of it.
Enjoy!