In the opening chapter of my book, Show Up Dead, our heroine, Peri Milano, deals with a stressful day by baking Chocolate Chip and Bailey's Cookies. But you don't have to wait until you're stressed to enjoy them. These baby's are good any time of day and go with just about any kind of emotion.
Here's her recipe.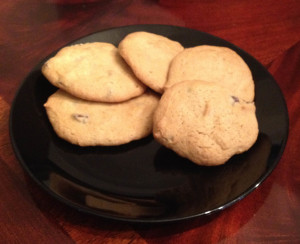 Chocolate Chip and Bailey's Cookies a la Peri Milano
(special note: you will see with the flour and vanilla, I provide 2 options. The first option is probably something you currently have in your pantry. By using it, your cookies will be good. The second option involves ingredients you may have to run out to the market to find. That recipe will make amazingly good cookies!)
Ingredients:
2 cups all-purpose flour     OR     2 1/4 cups cake flour
1 tsp baking soda
1/4 tsp baking powder
1/4 tsp salt
1/2 cup butter, room temperature
1/2  cup brown sugar, packed
1/2  cup granulated sugar
1 large egg
1/2 cup Bailey's Original liqueur
2-inch piece of vanilla bean     OR     1 tsp vanilla extract
1 cup chocolate chips
Directions:
Preheat oven to 375 degrees.
Whisk together the flour, baking powder, baking soda and salt.
If using vanilla bean, split it and scrape out the seeds, set aside.
In a separate bowl, cream the butter and sugars on high until well blended.
Add the egg, vanilla and Bailey's to the butter and sugars. Blend well.
Little by little, add the flour mixture and mix until smooth.
Stir in the chocolate chips.
Drop spoonfuls onto ungreased or parchment-covered baking sheet. Pat them so they're a flattened, just a little. They will NOT spread much.
Bake for 8 to 10 minutes, or until the edges are golden.