Yes, you can make candy from potatoes and it's absolutely delicious. Because there's peanut butter in it, I'm seriously doubting it's an Irish delicacy. However, it's made with potatoes why not add it to your St. Patty's day menu? If you're really in the spirit, you can add a few drops of green food coloring to the dough.
Ingredients:
One small to medium Russet baking potato (do not use any other kind of potato)
Peanut butter (have a full cup available, but you won't need it all)
Confectioner's Sugar (get 2 pounds just to be sure you have enough)
Vanilla extract (a small splash)
Hmmm, are you wondering why I didn't list specific amounts? For two reasons. 1: depending on your potato, the amounts can be skewed. 2: specific amounts aren't necessary.  If you're a stickler, you can go here Potato Candy. But if you read the reviews you'll realize some people get goo. Trust me on this, it's better if you DON'T measure.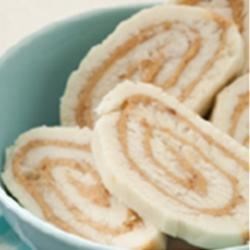 Directions:
Peal and cut the potato into cubes.
Place in pot, cover with water and cook over medium heat until done (can easily pierce with a fork).
Drain potatoes and dump into bowl.
Thoroughly mash the potatoes.
Dump in about half the confectioner's sugar and a teaspoon or so of the vanilla.
Stir well. A crazy thing will happen — you will get a thick, yellowish-brownish goo. Thick ugly goo at this point is good.
Start dumping in more of the confectioner's sugar, stirring it in well. Dump and stir. Dump and stir. And dump and stir (and scraping the sides of the bowl to make sure all is incorporated) until you get a thick, stiff white dough.
Sprinkle some of the confectioner's sugar onto parchment or waxed paper.
Remove dough from bowl and place on paper.
Sprinkle a rolling pin with the sugar and roll the dough ino a rectangular shape that's about 1/4-inch thick.
Spread the peanut putter over the dough.
Roll the dough, jelly-roll style, until you have a nice log.
Wrap in waxed paper or plastic wrap, place in a Zip-lock-type bag and refrigerate at least one hour. You can refrigerate longer if need be.
Remove from waxed paper or plastic wrap and slice into 1/4-inch thick slices.
Keep un-eaten portions refrigerated.